Body Shop
Has your vehicle recently been in an accident? Looking to fix scratches and/or dents? Bring your vehicle in for an estimate! We will be in contact within 1 business day after submission of form to schedule appropriately. For same day appointment, please contact us directly by phone.
COLLISION REPAIR SERVICES
Bloomington Ford LINCOLN can handle your auto body repair needs. We handle everything from mild fender benders to more serious car wrecks. Our trained professionals will complete your automobile restoration to a factory-quality finish.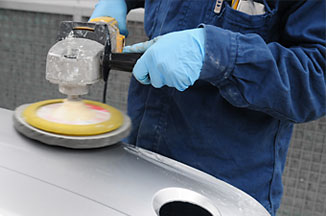 Body Shop
Amanda Purdy
Manager Autoplex Collision Center
812-331-2100 Hello, I am Amanda Purdy, manager at Autoplex Collision Ceneter. Having a little trouble with what to tell you about myself... I am originally from Bedford, but live in Bloomington now. Wife and mother of two, soon to be three. I've been in the collision industry for over 10 yrs now. I recently finished my college degree in Paralegal Studies, but would rather mess with cars. Coincidentally, that is how I met my husband. I tell him all the time that his car accident was the best thing that ever happened to him :) I've not been with the Autoplex for very long, but I do look forward to many years here.
Roger (Paul) Silkworth II
Autoplex Collision Estimator
812-331-2100 My name is Roger P Silkworth II, Born and raised here in Bloomington Indiana. I am married to my wife Amy going on 15 years. We have two sons the eldest will be 11 this year and the youngest will be 5. I started working for Bloomington Ford Inc. on February 14th 2000. I started out as a Shipping and Receiving Clerk, moved my way up to Asst. Parts Manager, from there I went down to the AutoPlex Collision Center as there Parts Manager. But quickly moved into the Estimators position that I currently am in now. I am proud to work for a company that has given me the opportunities to try new things and to grow with the company. I am going on my 16th year with the company and hope to have many more chances to grow and meet new and interesting people along the way.
Bobbi Manning
Autoplex Collision Center
812-331-2100 My name is Bobbi Manning. I have lived in the Bloomington area for almost 7 years now. I went to school in Putnam County Indiana. I attended Area 30 Vocational School during my 11th and 12th grade years. There I studied Auto Service Technologies and Auto Collision Technologies. I never have been afraid of getting a little dirty. My husband and I, and our two girls have an exciting animal filled life. We have a small farm that our friends call a "petting zoo". We have chickens, guinea fowl, goats, sheep, miniature donkeys, pigs, rabbits, cats and dogs.
Body Shop Hours
| | |
| --- | --- |
| Monday | 8:00 am - 5:30 pm |
| Tuesday | 8:00 am - 5:30 pm |
| Wednesday | 8:00 am - 5:30 pm |
| Thursday | 8:00 am - 5:30 pm |
| Friday | 8:00 am - 5:30 pm |
| Saturday | Closed |
| Sunday | Closed |
Our Location
Community Ford Lincoln
2200 S. Walnut Steet
Bloomington, IN 47401 Get Directions